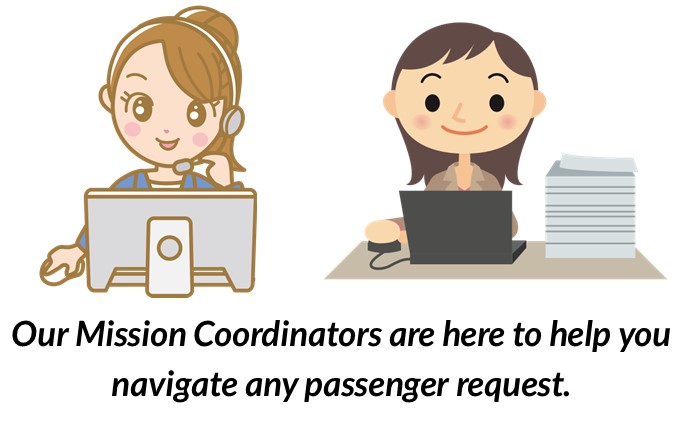 Sometimes passengers make requests and the pilot is unsure how to respond. Here are a few we have come across and our recommended response: 
Q: The passenger texts or calls a pilot directly a month after a previous flight. They tell the pilot they have another appointment scheduled and wondered if the pilot would fly them again.
A: Pilot response: "I'm sorry, but I am unable to take a volunteer flight that is not set up by LifeLine Pilots. Please call them to set up the flight and once they send out the dates and details, I will see if I can take the flight." 
Q: A passenger calls a pilot the day before the flight and says they are now taking a different support person on the flight, who is 50lbs heavier than the caregiver who is listed on the itinerary. You are the 1st of three legs to this mission.
A: Pilot response: "I'm sorry, but only the person listed on the itinerary is allowed to go on the flight. You will need to call the Mission Coordinator to see if this will be suitable for all of the legs of this mission." 
Q: A passenger arrives at the airport with two large hard suitcases, a large jogging stroller that is not listed on the itinerary, and a large duffle bag. You are the 1st leg in a two-leg flight. The return flight is also two-legs with two different pilots.
A: Pilot response: "Due to weight limits, only 40lbs of soft-sided luggage is allowed on the flight. Unfortunately, we are unable to accommodate the stroller. This has to be listed at the time you schedule the flight. While this might all fit in my plane, it may not fit in the 2nd leg pilot or return pilots' planes." 
If you come across other scenarios with passengers, in which you are unsure how to respond, please send them our way. We want to make sure that pilots are prepared for all situations.
As always, if you have any questions, our Mission Coordinators are here to help. They can be reached at missions@lifelinepilots.org or 800-822-7972.
Happy Flying from the LifeLine Pilots Team!