Click on the above link to be taken to a secure donation portal.
LifeLine Pilots is made possible by generous contributions.  We receive no government funding.  Instead, we rely on donations from individuals, businesses, and foundations to fund the facilitation of every flight.  Our pilots are the biggest supporters of LifeLine Pilots, giving hundreds of thousands of dollars in donated flight time and fuel & airplane costs.
We take our responsibility as the stewards of our donor's dollars very seriously.  We ensure that we are fiscally responsible with every dollar that is donated to LifeLine Pilots.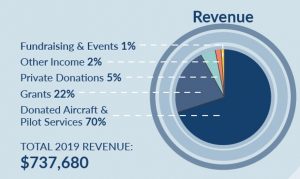 Donate Online or simply mail your tax-deductible contribution to:
LifeLine Pilots
4507 N. Sterling Ave, Suite 402
Peoria, IL 61615
Did you know that you can use Amazon Smile to donate 0.5% of all purchases to LifeLine Pilots? http://smile.amazon.com/ch/37-1097211
Thank you for your contribution!