To qualify for a LifeLine Pilots flight, a passenger must meet the following criteria:
Have a non-emergency medical or humanitarian need far from home (usually between 100-1,000 miles from home).
Have a financial or medical need for assistance.
Provide a doctor's name & fax number for LifeLine Pilots to contact for a Physician's Release.
Be able to fly in a small, 4-6 seat, non-pressurized aircraft.
Be able to board the aircraft with minimal assistance.
Be able to sit upright in a standard aircraft seat.
Be willing to sign a liability release form.
Provide own transportation to and from the airport(s).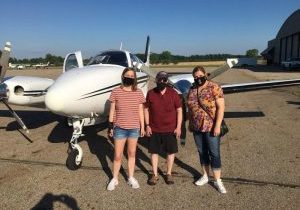 LifeLine Pilots coordinates non-emergency air transportation for passengers with medical or humanitarian needs far from home. There is never a cost to fly with us and no limit to the number of times a passenger can travel.
Flights are flown by LifeLine Pilots' team of volunteer pilots, who donate all expenses of the flight. Flights are coordinated to accommodate your medical appointment and the availability of the volunteer pilot. Your flight is just for you and your caregiver/companion.
First Time Passenger Information
Returning Passenger Information