John Hinshaw - Hangar of Honor Award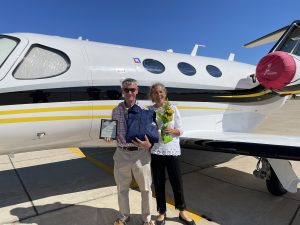 LifeLine Pilots is proud to present John Hinshaw with the 2020 Hangar of Honor Award*. Hinshaw has been flying for LifeLine Pilots since 1998. To date he has flown 112 legs, translating to 38,859 miles and 283.2 hours. The aircraft costs involved with these volunteer activities are more than $700,000!
During his long tenure with LifeLine Pilots, Hinshaw has always been willing to fill in an empty flight, to take missions that are out of his way, and to step up at the last minute. LifeLine Pilots appreciates his reliability and generosity. Congratulations on receiving this inaugural award!
Hinshaw was drawn to aviation in a roundabout way.
"I've always been interested in mechanical objects. Engines are fascinating how they use energy to create power. Airplanes are unique in that respect," he commented.
The complexity of airplane engines drew him in, but it was the
personal challenge of obtaining a pilot's license that created a pilot.
"A local pilot encouraged me to get my license. It was a personal challenge to see if I could accomplish it," Hinshaw said. When he discovered LifeLine Pilots and volunteer piloting, Hinshaw felt it would fulfill two needs – flying and helping others.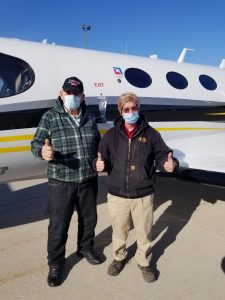 With so many missions under his belt, Hinshaw found it difficult to choose a favorite LifeLine Pilots' flight or passenger. He recently took the opportunity to fly a 4-year-old with her mother. He reports, "As I was leaving, the mom said, 'She wants to tell you something!' She came over to me, thanked me and gave me a hug."
While Hinshaw is honored to be receiving this award, hugs from 4-
year-olds are certainly the best acknowledgment of time well spent.
LifeLine Pilots is reintroducing awards and recognition for our volunteer pilots, an activity that has been dormant since 2004. Many thanks and much praise are due to all our volunteers, past and present.
*The Hangar of Honor Award is given to a multi-year pilot who has gone above and beyond in the previous year, as well as years prior, and who can be counted upon to accept last-minute missions.