Andy Wheatcroft - 2020 Blue Sky Award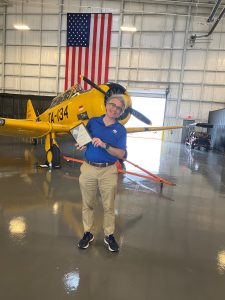 LifeLine Pilots is proud to present Andy Wheatcroft with the 2020 Blue Sky Award*. Wheatcroft became a member of LifeLine Pilots on April 1, 2020, but it was no joke. In the following 9 months, he flew 9 legs for 29 hours and traveled 1,725 miles. He is always willing to consider any mission and to fill in at short notice. Wheatcroft is an active member of the Board who is always looking for an opportunity to promote LifeLine Pilots with several successes. Wheatcroft also is a generous financial donor. Congratulations on receiving this inaugural award!
Wheatcroft is originally from the UK. "When we moved to the US nine years ago, I had a dream to get a Harley Davison. My wife vetoed that suggestion!" he said.  "I was motivated to divert the money to flying lessons - a childhood dream since watching Top Gun. No one in my family is into aviation, so I guess my American Dream was realized two years later with my private pilot license."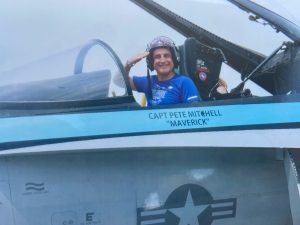 "Flying late in life (age 47) felt like such a privilege, a gift that still makes me feel like a 12-year-old boy every time I rotate off the runway," he continued. "So, the ability to share this gift, in such a positive way was an easy decision to make. I chose LifeLine Pilots because I was inspired by Wanda Whitsitt's story." Whitsitt was 48 when she achieved her private pilot's license and founded LifeLine Pilots shortly after.
Wheatcroft had quickly become a go-to pilot when emergency cancellations happened. His most memorable flight happened toward the end of his first year.
"I picked up a weather-delayed passenger mission last minute, who turned out to be Thomas, my first passenger/flight from a year earlier.  During the trip home from Waukegan, IL, to Tennessee he told me that this was his remission news visit," Wheatcroft reported.  "Hard to put into words how joyful this flight was, Thomas was a small-town family doctor for over 40 years, before cancer forced retirement, so no one deserved this outcome more than him," Wheatcroft finished.
LifeLine Pilots is reintroducing awards and recognition for our volunteer pilots, an activity that has been dormant since 2004. Many thanks and much praise are due to all our volunteers, past and present.
*The Blue Sky Award is given to any volunteer who has given above and beyond of their time, talents and treasures.